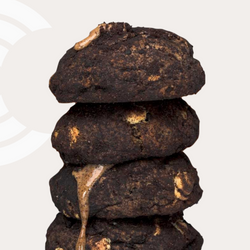 Sleepless in Toronto (6 Pack)
Cookies & Cream? We love the concept, but it's a "been there, done that" type of vibe. 
And you don't come to us for average. So why not kick things up a notch? What we have instead is so much more decadent and mesmerizing:
Pure Belgian White Chocolate
Pure Belgian Milk Chocolate
Rolled in Crumbled Oreos (A Bit Different From The Pic)
Filling: Espresso-Vanilla Frosting
**Available for 2 Weeks Only**

Perfect For: Cookie lovers & Coffee drinkers
Pair With: Iced cappuccino
Available in quantities of 6
Free shipping on orders of $80+. 
Our delivery schedule is 5 days a week, from Monday to Friday. You can select your shipping date from within your cart. 
We offer local delivery in the GTA, as well as FedEx, Purolator and UPS shipments across North America.
Other premium cookies to indulge in..