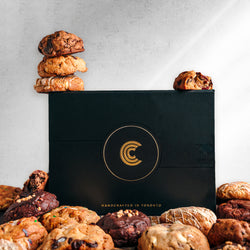 Elite Explorer Set (12 Cookies)
A members only experience.
Explore our private collection in the most fashionable way possible. Introducing the Elite Explorer Set:  3 irresistibly delicious flavours completely geared to take your tastebuds on a delicious journey. 
And because you expect nothing less, this 12 cookie set is housed within our custom design black and gold gift set we're famous for. It's worth bragging about.
6 x The GOAT
4 x The Newton
2 x The Garland
Perfect for: High achievers, adventurous foodies
Pair with: A glass of bubbly
Available in quantities of 12
Free shipping on orders of $80+. 
Our delivery schedule is 5 days a week, from Monday to Friday. You can select your shipping date from within your cart. 
We offer local delivery in the GTA, as well as FedEx, Purolator and UPS shipments across North America.
Other premium cookies to indulge in..